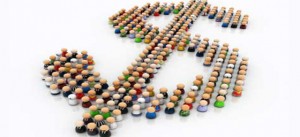 We're living in an interesting time.  I guess it's all your perspective.  The economy presents challenges on many levels but this kind of a down economy also spurs innovation.  It motivates people to forge ahead on new ideas and follow their passion.  To do so usually requires some capital but traditional borrowing is tough to come by.  Many people and companies are seeking investments through their peers by way of crowdfunding.  The JOBS Act, the Jumpstart Our Business Startups, recently signed into law by President Obama "wipes away a batch of regulatory restrictions on small companies.   Previously, entrepreneurs couldn't sell shares in privately held companies to the general public.  Now, with some restrictions, small firms will be able to raise up to $1 million from small-time investors. "
You've probably heard of Kickstarter, the very successful site for funding creative projects.  But backers of projects on Kickstarter "don't get any financial stake in the projects they fund.  They get other incentives and rewards like a DVD of the play they raised money for or a copy of the book they funded."
CNNMoney recently reported on 8 crowdfunding sites to watch – these sites are getting ready to match companies with investors who are looking for an equity stake.  If you're serious about pursuing crowdfunding as a strategy be prepared to tell your company's story.  A well-produced video can make the difference by selling your idea to the masses and differentiating yourself from the competition.  Here's just one of the websites profiled in the CNNMoney article and what they say about creating your online profile:
Excerpt from WEFUNDER:
Recording your video
Although we don't require a video, companies that choose to create one will have a distinct advantage. This is the closest you'll come to being able to have a direct (albeit one-sided) face to face conversation with your potential supporters. Keep your video short — your audience's time is valuable — and use it to show off your product or service, or as much of it as you have now. Introduce your team, and make sure to communicate how your knowledge of the space and past experiences will help ensure success. The power of video is that you can express yourself and your passion more thoroughly. By the time they're done watching, your backers should feel the same passion you do about your business.
Your video is just like your pitch to a room full of investors.  Make an impact by thoughtfully designing your message to appeal to the audience.  Support your talking points with visuals that make the connection.  It's not something that should be scheduled for completion in an afternoon.  It takes time to craft the message and create the right balance of both passion and business acumen.