We were very fortunate to be invited as guests to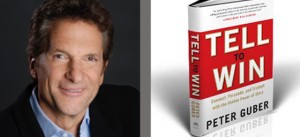 BCA's May breakfast event where the guest speaker was Peter Guber, head of Mandalay Entertainment among other things and producer of films like Rain Man, Batman, and The Color Purple.   Only a few days before the invitation came, I had read an article about Peter's new book, Tell To Win, which I shared on Linked In and was shared again by one of my connections.     In Tell To Win, Peter talks about the power of story and how success is won "by creating compelling stories that have the power to move partners, shareholders, customers, and employees into action."  He considers himself in the "emotional transportation business", moving people to take action by connecting with them with story.
In his talk at the Union League he didn't even mention his book.  He spoke passionately about success and failure, the success and failure he had throughout his career and the joy and pain associated with it.  We had the chance to speak with him briefly at the end of the event and he told us how difficult it was to prepare a 20-minute talk to such a diverse group.  I think he nailed it.  This was a group of business owners, executives, entrepreneurs and marketers.  Everyone could relate to a talk on success and failure where the difference between the two is telling purposeful stories- using the power of story to propel another person into action.  "State-of-the-heart technology, not state-of-the-art technology is the game changer."   That is the best part of what we do for clients, helping tell purposeful stories to move people to action.  If you're ready to tell your story, we can help – contact us here.