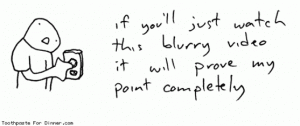 A few days ago Martijn Scholte, a guy from Holland, emailed me his contact information.  He's a soundman with an ATA Carnet, a USA journalist visa and is looking for gigs worldwide.   His one line pitch was "I believe it is the archer not the arrows that make the difference."  I would hire him in a minute because I believe that too.  We don't have to debate that easy to use digital video cameras and editing software are readily available.  Just because anyone can shoot and edit a video doesn't mean they should.
Here are 7 Reasons Why Video Production Values Matter according to Amanda Dhalla from Video-commerce.org
1. Rising viewer expectations   According to 
comScore's 2012 US Digital Future in Focus report,105.1 million Americans watch videos online each day, up 45% from 73.7 million in 2010.  The average viewer watches 239 videos per month with length and file sizes increasing.  As more television viewers migrate to the web or plug their computers into their TV's, they're coming to expect higher quality online video.  With standards rising, shooting better quality video now can help ensure the longevity and value of your video strategy and assets.
2.  More sophisticated viewing devices  Consumers are increasingly using mobile devices to view content when and where they want.  Those mobile devices are becoming even more advanced. The new iPad 3, for example, features a 2048 x 1536 resolution display, quad-core graphics processing and 3.1 million pixels in a 9.7-inch space. That's a million more than an HDTV. More sophisticated equipment combined with fast data networks, means that mobile video quality looks spectacular. Unfortunately, homemade video looks, well, homemade.
3. Better user experience   A well-lit, tightly-edited video is usually more appealing to watch than a homemade clip. Audio in particular has to be good.   You might be able to squeak by with so-so quality visuals, but if the sound is poor quality or hard to hear, viewers will go for the 'x' button. With thousands of videos uploaded every second – by Hollywood studios, amateurs and everyone in between – making the viewing experience as easy on the eyes and ears as possible should be a main priority.
4. Competitors are doing it  According to eMarketer, Custom Content Council and ContentWise found 52% of North American companies used video for content marketing in 2011.  This is sharply up from 2009 when it accounted for only 37% of North American marketers' content investment. 
In addition, over half (54%) of North American companies planned to invest more in video content in 2012 over last year.With so many brands getting deeper into video, your footage must at minimum be comparable in terms of content and production values to attract and convert prospects.
5. Brand reputation enhancement   Like your website, your email marketing and your printed materials, the video that your company produces is representative of your brand. It can take a lot of time to plan, script, shoot and edit a video. Make sure your clips look and sound professional to protect and enhance your brand reputation and show consumers that you care.
6.  More compelling content  
Production values can enhance or detract from the core content of a video. A production company doesn't just make the end product look good. They also help craft the content of your video to ensure it is focused, informative and impactful. Better content translates into higher conversion.
7.  Decreasing costs
  Well done video need not cost the earth. The days of paying six figures for a few minutes of video are waning. For example, the viral video from the Dollar Shave Club launch in April 2012 only cost CEO Mike Dubin $4500. Before beginning your hunt for a video production company, prepare a brief outline of what you're looking for. Shop the brief around to at least four businesses to compare pricing. To get the best pricing, aim to build a long term relationship with your chosen video production company, and plan to shoot a number of videos at the same time.